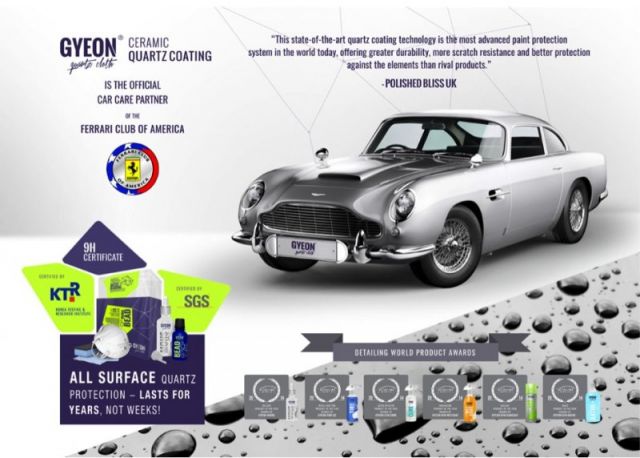 There are only a few simple reasons why you are considering a ceramic quartz coating as a paint protection system for your vehicle, whether it's brand new or pre-loved.
For many people, it'll come down to;
Protection
- a safeguard to protect your vehicle against environmental damage such as contaminants and pollutants which will deteriorate the look of your vehicle over time
Looks / Finish
- the latest in Ceramic Coatings achieve aesthetics comparable or exceeding the highest grade of traditional waxes for prolonged shine and gloss. And unlike waxes, it stays on even in our
extreme
hot and some areas wet almost tropical like weather across Australia.
Maintenance
- on a bare paint surface, dirt and grime adhere more easily necessitating frequent washing. On a coated surface, the contaminants are repelled and wash off quickly to save you so much effort in ongoing maintenance. And with Gyeon Quartz we have a full range of products to help you maintain your entire car from inside to out.
So many brands, so many coatings and options, what to choose?
Whether you just bought, buying or looking at giving your existing car a birthday present you will start to look online and research as much as you can. However you realise shortly after there are so many 'apparent' cutting-edge brands some claiming to give miraculous results whilst other offering a lifetime guarantee. After almost 15 years of being in the Detailing Industry in Australia and many brands, training, testing and research done in-house for our conditions here in Australia we are safe to say we have found a brand that lives up to not only a Customers expectation but to OURS.
GYEON QUARTZ is a brand that offers a range of premium quality products which have been extensively tested to satisfy the needs of car detailing enthusiasts, as well as the tough requirements of professionals. Over years of usage with our customers, we have seen excellent results and received feedback from many about the long-lasting performance and durability of the GYEON coatings.
With GYEON's regular R&D (research and development) put in place in order to ensure that they are not only providing you with the most innovative solution with exceptional results, they carefully choose their Professional Applicators who go through regular training to provide you with the satisfaction that you care is not only being protected by the best but being cared and treated by the best.
GYEON products do not rely on gimmicks, fancy colours or fruity scents (unfortunately!), but they do not give false promises of how your could be protected, simply promise durability, long-lasting results and high quality surface protection.
So if you're looking to protect your car and maintain your car to keep it looking new during your ownership, then GYEON is the brand for you.
What is a Gyeon Quartz Coating?
Gyeon MOHS+ and DuraBEAD (note: which are
only available to Trained & Certified Gyeon Applicators
is a Quartz based Silica ceramic coating (SiO2) which delivers ultra durable, candy like gloss protection to the painted surfaces of your car.
MOHS+ & DuraBEAD are both 9H tested & certified by 2 leading world-renown scientific testing facilities, adding further scratch resistant properties to help prevent washing marks and swirls from daily use.
Gyeon Quartz MOHS+ or DuraBEAD work by chemically bonding to the vehicles surface and effectively attaching itself to the paint - you could say a semi-permanent bond. Traditional coatings that you previously used merely sit on top of the paint and protect, in short this means a carnauba wax, polymeric sealant and nano sealants do not offer the same chemical resistance or protection that Gyeon Quartz would.
Gyeon MOHS+ & DuraBEAD are chemical resistant from pH2 - pH13, making it one of (if not the most) chemical resistant coating on the market still to this day.
Information and formalities a side, Gyeon Quartz have an entire range of products to help maintain your Gyeon Quartz Coating and in fact work very well and often recommended by other competitive brands for maintenance.
Gyeon Quartz 5 year Protection* Services include;
■ Paint Protection
■ Matte Paint Protection
■ Glass Protection
■ Leather / Fabric Protection
■ Wheel Protection
■ Trim & Plastic Protection
Gyeon Quartz is available in Sydney, Brisbane, Melbourne, Adelaide, Perth and Townsville.
Contact us on 1300 006 007 or email
info@carcareproducts.com.au
for more information
--------------------------------------------------------------------------------------------------------------------------------------------
Attached are just some of the cars we have completed, for more please visit our
Facebook Page
here;