Moderator: rotaryrx7white
The Bug Has Bitten
Posts: 334
Joined: Tue Mar 23, 2010 3:53 pm
Location: melbourne
Has liked: 0
Been liked: 0
Hey there, I am looking for Front Struts for my S3. Mine have a knock in them, think the shock insert is stuffed, or would you know of where to find new ones..?
MRK-01 ...........
Faster, faster, faster, until the thrill of speed overcomes the fear of death...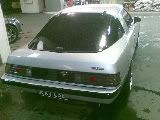 ---
---
Epitrochoid Shaped Head
Posts: 1764
Joined: Wed Jul 23, 2003 4:41 pm
Has liked: 1 time
Been liked: 2 times
Do you have any S3 (or S2 if the same) air conditioning parts from under the dash?
---
Hey mate,

I'm after a few things if you happen to have them in your stash!

Power window regs/mechanisms and interior electric window switches for both sides,
S1 side mirrors for both sides,
And any s1 aircon bits you might have left, almost after a full system from compressor to vents.

Thanks,
Sam
---
---
---
Hey mate,

Do you have any of the following for a 85 s3 rx7

Original radio
Hazard switch
Leather case for sunroof and belts to strap down
Rear bumper

Cheers
---
---
Registered Rotor User
Posts: 8
Joined: Sun Oct 14, 2012 10:27 pm
Location: Sydney
Has liked: 0
Been liked: 0
Hi Nathan,

I'm after a s3 front right guard.
Can you please send a couple of pics through to me on 0431 823 753?

Thanks,
Lachie
---