Forum announcement
-
21 August 2018
- It is with great sadness to learn of the passing of a great of the AusRotary community, Darren Baker aka "Dazz". Since the very beginning, Dazz has been one of the giants of AusRotary, contributing his vast technical and model knowledge, as well as volunteering his time as a moderator. Right up to very recently he continued to provide race reports, results and photos of RX-2s from historic racing meets, even as his health made it very difficult to do so. Should you wish to add you own comments in honour of Dazz, please visit here:
viewtopic.php?f=3&t=250953
Moderator: rotaryrx7white
The Bug Has Bitten
Posts: 334
Joined: Tue Mar 23, 2010 3:53 pm
Location: melbourne
Has liked: 0
Been liked: 0
Hey there, I am looking for Front Struts for my S3. Mine have a knock in them, think the shock insert is stuffed, or would you know of where to find new ones..?
MRK-01 ...........
Faster, faster, faster, until the thrill of speed overcomes the fear of death...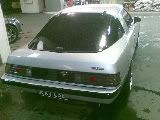 ---
---
Epitrochoid Shaped Head
Posts: 1764
Joined: Wed Jul 23, 2003 4:41 pm
Has liked: 1 time
Been liked: 2 times
Do you have any S3 (or S2 if the same) air conditioning parts from under the dash?
---
Hey mate,

I'm after a few things if you happen to have them in your stash!

Power window regs/mechanisms and interior electric window switches for both sides,
S1 side mirrors for both sides,
And any s1 aircon bits you might have left, almost after a full system from compressor to vents.

Thanks,
Sam
---
---
---